Staff:
Mrs C Farrington (Leader of Learning)Miss C Henning
Mr S Donnelly
Mr R Fitzpatrick
Miss L McBride (Technician)
The Home Economics department at the Belfast Model School for Girls is an 'An innovative, enterprising department, promoting the health and wellbeing of the whole school community, embedding a culture of Healthy Eating, developing students' skills for life, fostering the highest expectations and levels of achievement for all students at each key stage, successfully delivering 'Achievement for All'.  The department is located within a suite of purpose-built, modern and very well equipped rooms.
KS3
The KS3 Home Economics curriculum at BMSG fulfils the Learning for Life and Work curriculum and is based on the following key themes weaved throughout the schemes of learning:
Healthy Eating
Through the exploration of healthy eating, pupils develop the knowledge,
understanding and practical skills required for healthy living. They learn
how to plan, prepare, serve, handle and store food safely.
Home and Family Life
This dimension provides opportunities for young people to understand the
importance of the family as a caring unit.
Independent Living
Pupils learn how to manage resources effectively as well as the importance
of being discerning consumers.
In terms of practical cooking lessons, students have an opportunity to make a delicious range of healthy, convenient and easy to adapt dishes that link to topics being studied.   An additional emphasis is on students developing a wide range of transferable food preparation and cooking skills, including advanced skills in preparation techniques in preparation for studying one of our GCSE courses. Practicals are based on key learning themes to ensure a consistent, progressively more challenging skill development approach at KS3.
| | | | |
| --- | --- | --- | --- |
| THEME | Y8 | Y9 | Y10 |
| 1.     Health & Safety | Ham & Cheese Toastie | Crepes | Sausage & Mash |
| 2.     Knife Skills | Easy Pizza | Caesar Salad | Coleslaw |
| 3.     Rubbing-in Method | Apple Crumble | Scones | Shortbread |
| 4.     Soup Making | Lentil Soup | Leek & Potato Soup | Chicken Noodle Soup |
| 5.     Bread making | Soda Bread | Wheaten Bread? | Cheesy Garlic Focaccia |
| 6.     Christmas Cooking | Snowmen | Candy Cane Hearts | Candy Cane Pops |
| 7.     Adapting Recipes | Fruity Muffins | Apple Turnovers | Banana Bread |
| 8.     Meat & Sauces | Easy Spaghetti Bolognaise | Carbonara | Main Meal Madness |
| 9.     Cake making | Fairy Buns | Pineapple Upside Down | Mini Victoria Sponges |
| 10.  Pastry | Ham & Cheese Jambons | Mini Quiche | Cocktail Sausage Rolls |
| 11.  Easter Cooking | Easter Nests | Easter Bark | Lamby Cupcakes – |
| 12.  Y8 extra | Fruit Salad | | |
| 13.  Summer | Herby Potato Salad | Burgers | Strawberry  /Jam Tartlets |
| 14.  Healthy Eating Week | Chicken Popcorn & dips | Wholesome Pizza | Spiced Turkey Burgers |
KS4
At KS4 students have an opportunity to opt for wither GCSE Occupational Studies and GCSE Hospitality.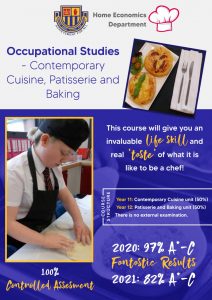 GCSE Occupational Studies (CCEA)
This course is assessed through continuous assessment of portfolio based work.  Students will complete 12 practical cooking assessments (each worth 5% of the overall GCSE) and a range of knowledge tests, evaluations and diaries of learning activities over the two years.
Course structure:
Year 11: Contemporary Cuisine unit (50%)
Year 12: Patisserie and Baking unit (50%)
There is no external examination.
GCSE Hospitality (CCEA)
This course is assessed through a combination of a controlled assessment and two external examinations.  Over the two years students will complete three units of work to develop core knowledge about the hospitality industry and the skills required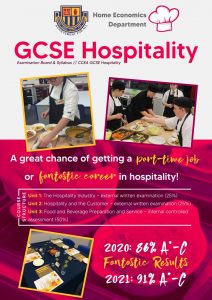 for working in it.
Unit 1: The Hospitality Industry – external written examination (25%)
Unit 2: Hospitality and the Customer – external written examination (25%)
Unit 3: Food and Beverage Preparation and Service – internal controlled assessment (50%)
Post 16
BTEC Level 3 Subsidiary Diploma in Hospitality
This two-year course aims to further broaden students' knowledge and understanding of the size, scale and nature of the hospitality industry.  It is designed to give students the opportunity to explore the industry and how it has evolved and adapted to meet current demands. Students will also gain experience in professional cookery across a range of cuisines, the principles of supervising customer service and event planning and management.
Extra-curricular opportunities
The Home Economics department prides itself on providing students with a calendar of 'value-added' educational experiences, to promote the subject as an essential life skill as well as an exciting and fulfilling career option.
Y8 Cooking Club
Led by our very skilled technician Lynda, our over-subscribed Year 8 cooking club is a fantastic opportunity for students to work independently to make healthy snacks as well as making new friends and building self- esteem and confidence through cooking.
Recipes made are a group decision whilst ensuring they meet the healthy eating and budget based criteria.  Dishes include Mini Vegetable Pasties, Wedges and Dips, Fruit Smoothies and Fruit and Yoghurt Compote.
Wednesday Year 9 Cookery Club with Mr Fitzpatrick G31
This is an oversubscribed club where girls get to plan, make and taste a range of sweet and savoury dishes.  Girls really enjoy this fun session and produce lovely dishes to take home to their families.
Wednesday Year 10 Cookery Club with Mrs Farrington G30
Again, oversubscribed, girls get an insight into Hospitality GCSE.  We make and serve dishes which demonstrate a high skill level.
Bake Off
Launched in 2017, our Bake Off competition was such a huge success that it was rolled out several times a year.
Bake Off 1 encourages students to work with their families to make and bake a novelty cake of choice to enter whilst Bake Off 2 Christmas challenges students' technical ability to make edible Christmas Tree decorations.  Bake Off 3, also proven very popular, gives students an opportunity to make their most favourite Easter themed cupcakes.
Springboard Future Chef
Students at BMSG have a fantastic opportunity to enter the very competitive Springboard Future Chef award.  The competition aims to inspire a love of cooking whilst gaining experience in the Catering Sector.  It also promotes the value and use of our wonderful local produce as well as educating students about the wide range of careers in hospitality.
Congratulations to Caitlin Johnston who made it to the local finals in 2021!
Hospitality Hostesses
To develop experience in the hospitality industry our hospitality hostesses prepare and serve refreshments to guests at many of our whole school events such as open evening, prize giving and our carol service.
Restaurant Chestnut
For one night only on Thursday 21st November 2019 Y12 GCSE students welcomed staff to Restaurant Chestnut – their very own pop up gastro dining experience @ BMSG. The event was planned, prepared & delivered by our very talented & professional students as part of their controlled assessment unit.  Staff were overwhelmed with their expertise, complimenting both the standard of both food & service and comparing it to any of the top restaurants in Belfast! We hope to host a lot more events in the coming weeks and months!