Once again there was much joy and many congratulations today at Belfast Model School for Girls, where students and staff celebrated another year of outstanding GCSE results. More than half the girls achieved 5 or more GCSEs at Grade A* – C. The majority (more than 70%) of Year 12 students achieved a grade C or better in GCSE English Language and more than half achieved a grade C or better in GCSE Mathematics.
These fantastic results mean that most girls will return to school to study three subjects at Advanced Level. Others will have the opportunity to embark on a three -year Level 2 / 3 'Steps' Programme to firstly complete a Level 2 course and 3 A-Levels .
This year's top GCSE candidate Holly Ferguson achieved A*A*AAAAA and is returning to study A Levels at Post 16. Many more students, too many to mention individually, achieved 7 GCSEs at grades A*, A and B. This is just reward for all the hard work and commitment of both students and staff. I have no doubt that the girls' parents, who also give such wonderful support are feeling very proud today, as are we.
We are delighted for our girls, their parents and families.  Their hard work has paid off. Year 12 had the motivational mantra of 'I can, I will' – they certainly did!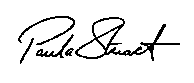 Ms P Stuart
Principal