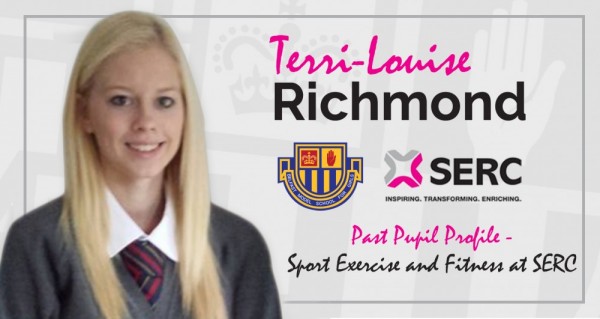 @GirlsModel Very good Terri-Louise- hope you are enjoying your course and getting the edge @S_ERC

— SERC (@S_ERC) February 6, 2017
Years at GMS: September 2009 – June 2016
A – Level Subjects and Grades: Sports Studies – A* | Applied Science – CD
College & course name: Southern Eastern Regional College (SERC) in Bangor Campus to study a higher education foundation degree in Sport Exercise and Fitness.
Why did you choose to do this course? I chose to study Sport Exercise and Fitness mainly because I love sport and I am really interested in learning more about it.  Another important factor is that I knew I didn't want to go to University straight after completing my A-Levels.  Therefore I discovered Sport Exercise and Fitness at SERC and it sounded perfect to me.  This course also runs alongside University of Ulster at Jordanstown which gives me the opportunity to finish my sports degree if I want to in the future.
Starting Date: Monday 5th September 2016
Length of Course: 2 years with 16 week sports based work placement
How did you feel about starting University/College? I felt very excited about staring my foundation degree because I knew I was getting the opportunity to study sport.  When it came around to my first day at college I began to feel very nervous as I realised I was going into a completely new environment where I knew no one at all and did not know what to expect.
Favourite Memory at GMS: Throughout my 7 years at the Girls' Model I made many great memories, however my favourite was when my A-Level Science class stayed in the student accommodation at Ulster University in Coleraine.  We had 4 days to complete scientific experiments and gain results to write conclusions and evaluations from which then went towards our overall science A-Level grade.  There was many other schools and science pupils involved and over the duration of the 4 days we had great fun and it was an overall brilliant experience.
Teacher(s) that most influenced you:  I would have to say all the PE teachers influenced me most, especially during my GCSEs and A-Levels.  Mrs Graham is one of the most helpful teachers in the school and always helped me to achieve my best.  I could not have achieved the great PE results that I did without the help and encouragement of all the PE staff – of which I am still very grateful for.
Advice for Year 8 student: Be confident, join as many sports clubs/after school clubs as possible (as this is one thing that I regret not doing from the start) stay focused and work hard!
Everyone at the Belfast Model School for Girls would like to wish Terri-Louise the very best in her studies and for the future!