Congratulations to Belfast Model School for Girls Vice-Principal Mrs Logan who was the joint winner of the 'Educational Excellence' award at The Greater Shankill BEST Awards on Sunday 6th May at the Europa Hotel, Belfast.
Mrs Logan was presented with the award alongside Belfast Boys' Model Principal (and husband!) Mr Logan for their contribution of each serving over 35 years service to their respective schools.
Mrs Logan said, "I felt very honoured and privileged to receive this award which I accept on behalf of all the talented teams of staff that I have worked with over the years.  Thanks to Community First and the Greater Shankill BEST Awards for a very special evening." 
Belfast Model School for Girls Principal Ms Stuart said, "warmest congratulations to Susan and Alan on receiving the Educational Excellence award; such a well-deserved award and wonderful recognition of a lifetime of service to young people."
Former Girls' Model teacher Valerie Earley was also nominated in the same category, recognised for her services to teaching, before retiring in June 2017.
Well done to all the award winners, nominees, guests and organisers on such a successful evening for all involved.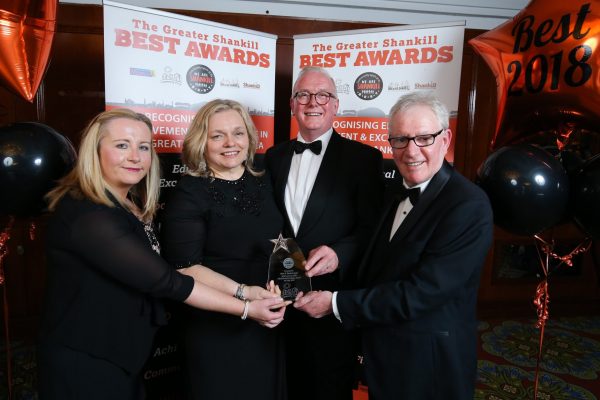 THE BEST AWARDS
The BEST Awards was re-established in 2017 during Alderman Brian Kingston's term as Lord Mayor.  In association with Greater Shankill Partnership, Spectrum Centre and Shankill Mirror, the awards were a huge success and celebrated the BEST of Greater Shankill.
This year the awards again recognised the effort, achievement and excellence of those who make a real difference in the community.
BEST Awards – Brings Everyone in the Shankill Together
COMMUNITY FIRST
Community First was established in 2016 with the purpose of helping families in the Greater Shankill and further afield in times of need.  We are a non-profit organisation that is committed to giving back to the community.  Community First is made up of local people, dedicated to helping people from the local area and supporting in any way they can.