Congratulations to Grace Duffy, P7 Ligoniel P.S. who won the recent poetry competition organised by our English department as part of our Opening Evening activities. The competition encouraged visiting girls to write an acrostic poem based on 'The Model' – reflecting on their experiences at the open night and knowledge of the school. Overall, we had 43 entries to the competition and the poem below was judged to be the winner. On Friday 1st February 2019, Mr O'Halloran visited Ligoniel P.S and presented the winning student with a £15 Amazon voucher. Well done to all!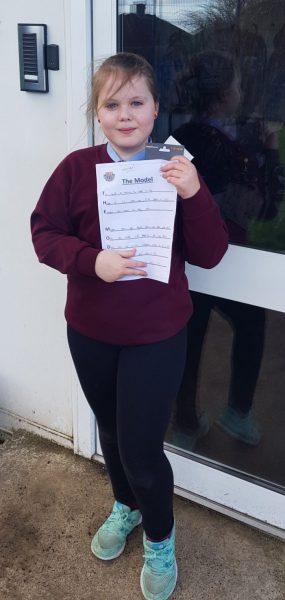 The Model 
The Model is massive, The Model is big.
Hope I can come here, I'll dance a jig!
Everyone seems so very nice
Maybe someday they'll give me some good advice.
Only The Model will fulfil my dreams,
Don't have no bullies, they are one big team.
Everything tonight has been such a hit,
Living their best lives, I'm loving it!!
By Grace Duffy, P7, Ligoniel P.S.